'Assessing renewable energy investment and attractiveness – How to build a solid future in an evolving landscape'
EY has built a strong reputation in many areas and its Renewable Energy Country Attractiveness (RECAI) report is one such example of leading-edge research material and reference point to assist project developers, financiers and corporates understand where in the world the business environment is most conducive for renewable energy activity. A packed room at EY's head office heard from EY's Phil Dominy, Lavaanya Rekhi and Sami Zubair on the latest RECAI report published in May, plus a look forward to the forthcoming November 2019 edition.
The RECAI has at its heart qualitative and quantitative analysis based around 16 parameters and 53 detailed datasets prioritised across five broad topics – the primary 'weighting' is on the Technical Potential of a country followed by its Project Delivery capability and then the energy imperatives guiding the particular nation state. To complete the analysis the policy enablers and general macro environment are considered.
A very informed set of questions followed to stimulate the 'conversation' followed by an opportunity for great networking and sharing of reflections and ideas.
The next and 22nd Conversation is to be held on 26 February 2020 with the topic 'The public spotlight on aviation fuel – How to adapt to keep us flying whilst meeting future energy demands and environmental pressures.' The Speaker will be Freeman Fueller and Fellow of the Energy Institute, John Pitts, Managing Director of eJet, Global Aviation Fuel Specialists.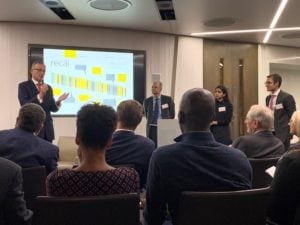 By PM Paul Cuttill