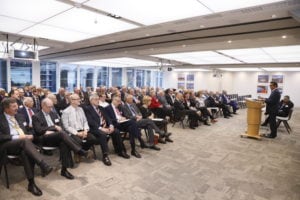 The lecture room at CMS was packed with Fueller members, prospective members, Livery Company Masters and other guests for the 15th annual Ezra Lecture delivered by Tony Hayward, Chairman of Glencore and former CEO at BP.
The theme was 'Future of Energy' with Tony commenting that there is an increasing demand for global energy where 40% more output will be required by 2050 and how this can be reconciled with the Paris Agreement He said that fossil fuels will still be 80% of worldwide energy supply in 2035 so the world should focus, as well as renewables, on clean fossil fuels, CCS and carbon taxes to minimise their effect.
World population is now 7.5 billion of which 2 billion suffer from energy poverty. Global warming is much more significant when compared with the dangers of a new Ice Age. More oil, coal, and gas was consumed last year than ever before.
The growth of China is highly relevant where Beijing now has 12 ring roads when compared with the early 1980's when it had just two which were barely used.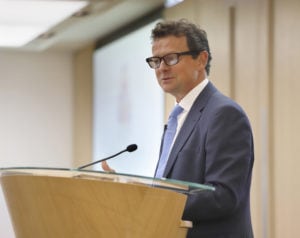 Tony commented that due to poor energy policies Germany could be in a challenging energy supply situation and their emissions are at the same level as 2008. Whilst the US has lowered emission levels by 15% since 2005 despite the apparent lack of support for international initiatives to restrict global warming.
Due to the requirement of more energy, it is forecast that fossil fuels will still account for 80% of output in the medium term so we need to consider how we can break this cycle.
The advancement of battery technology will greatly assist the introduction of mass sales of electric cars which will be led by consumer demand, not government direction. However electric transport will increase the demand for copper, cobalt, and nickel leading to an increase of 30% in raw material prices. Nevertheless air quality will improve.
Looking to the future it is to be expected that demand for oil will peak in 2030's when electric cars will be the vehicle of choice for the consumer. Renewables will only represent 7% of world power supply and there will still be a population of over 1billion in energy poverty. Carbon taxes will be introduced whilst carbon capture storage schemes in the North Sea and elsewhere are envisaged.
Due to the huge financial investment requirements associated with new nuclear power stations, it was recommended that HMG should take the lead in order that nuclear remains a longterm option for power generation in the UK.
And finally, the delivery of cheaper gas should replace coal supply.
There was a lively Q&A session which included Renewables, Hydrogen, Coal output in Nigeria, tidal technology, gas storage, Japan's energy policy, and the National Grid.
A fascinating evening which was concluded with Past Master Paul Cuttill giving the vote of thanks and the Master presenting Tony Hayward with the Company Shield and other items showing our appreciation for the lecture.
The transcript of the speech is in Fuellers Archives.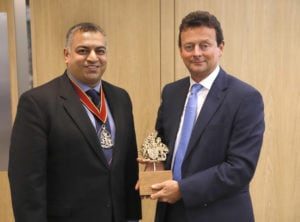 By Professor Michael Green & Michael Shirley, Junior Warden Elect