22 June 2021
by Senior Warden Carrie Marsh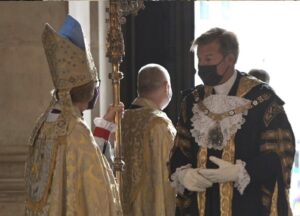 The mood was one of relief at being back in the City as I entered the courtyard at Apothecaries Hall where the Livery were to process from. There was a buzz in the air at finally catching up in person, but a sombre note as we were all too well aware why we were attending. The Lord Mayors service of Reflection and Hope at St Pauls Cathedral.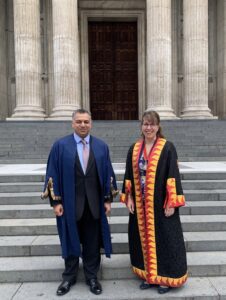 Upon the allotted hour we processed to the Cathedral where we obediently lined up for the tracking and social distancing procedures. While waiting in line, which took some time, it was an opportunity to see the vast variety of people represented from the City. Different faiths, emergency services, doctors and health workers, those working with young people, the military and many more. Indeed, the point of this service was to take a moment in which to pause and reflect on the Coronavirus pandemic and those lost or still coming to terms with it, as well as look forward to the future with a spirit of optimism.
Having taken our socially distanced seats in the North Transept, The Right Honourable The Lord Mayor duly arrived, and the service began.  One could not help but noticing that although spread out across the cathedral, due to the space between all the seats, it felt a much more intimate gathering and likewise the service was very touching. While we were unable to join in with the hymns, the voices of the choir rang out around the Cathedral and filled the space. Following the welcome from The Very Reverend Dr David Ison, a short silence was observed to honour those who have died as a result of the pandemic, accompanied thereafter by a beautiful Anthem sung by the Choir.
There were several people who read, including the Lord Mayor himself, but the most notable of these was Dr Will Ricketts, Consultant Chest Physician at St Bartholomew's Hospital, London. A humble man who found himself very surprised to have been asked to share his experience but obliging with such detail that we felt we had been on his journey with him. From fairly small numbers on a normal day to the sudden wave of cases that came in and had to be dealt with. The Intensive Care Unit (ICU) alone was expanded by 300% to try and cope. Beds were brought in as were yet more staff came. Specialists from other fields, those usually behind a desk, those retired returned to help. From dermatologists to IVF specialists, they came to the hospital wards, gowned and gloved to help where they could, and this quiet man before us was one of those who tried to give them support as well as prioritise and help those around them. He became 'used' to losing about 25 patients each night, a number he found hard to comprehend. He also recalled one lady who he remembers well to this day. She was always "number 2" being the second to the front of the queue for an urgent bed in ICU. Unfortunately, every time there was a bed free, a more urgent case overtook her. Finally, she passed away still second in the queue, still waiting for that bed. An air of stillness descended when Dr Ricketts quietly and calmly clarified that there was only one way a bed ever became free…
In the spirit of the service, Dr Ricketts did also share with us some positives that he carried from the experience. Normally a specialist would be more removed from his team, checking in here and there. But in this instance he became fully submerged with his team from retired volunteers to those he would normally work with and all levels in between. He recalled how they regularly sat to eat 2 donated meals a day together and found it a time to catch up, de-brief and support each other, bonding as a team regularly under the gaze of a 13ft bright orange tiger where they found themselves eating in a children's area.
The Choir gently broke the air with an Anthem while we digested what we had just shared. I cannot imagine how anybody had a dry eye through the service. Including the Right Reverend and Right Honourable Dame Sarah Mullally, Bishop of London. Though out of sight from where we were seated, she painted a picture that reminded us just how empty the streets became in the early days of lockdown. Traffic noises replaced by skateboards, hearing birds singing which would normally be drowned out by traffic. She reminded us how London is built on a history of plague and disease which we have overcome and learned from. Indeed, there is a statue of Florence Nightingale in this very Cathedral which was used to remind us of her discovery that the water was spreading cholera and enabling the City to install new plumbing systems and recover. This lead us on to hope of overcoming the dark days and working our way back into the light. As the City slowly awakens, to hear its beating heart and for us to all come together to breathe life back into it with renewed hope for the times ahead.
In closing the service, the representatives of the Jewish, Muslim and Christian faiths present were invited to join The Dean in an act of commitment, dedicating themselves to supporting the bereaved and honouring the memory of those who have died; to restore lost hope and, with creativity, compassion and patience, resolve to work together for the good of this City. We then joined in, as invited, to affirm the same.  At the conclusion of the service, the choir sang the National Anthem and then the Lord Mayor departed. During the few moments silence that followed, we all reflected on the last hour while waiting to head out to the Sun on our faces, the preciousness of which I certainly now appreciate much more.