The Lord Mayors Show - Saturday 13th November
It was such a delight to see this annual spectacle back on the streets of London. Walking shoes at the ready, with my consort and banner carrier, Dave, plus Senior Warden Peter Harrison, we looked forward to an exciting day.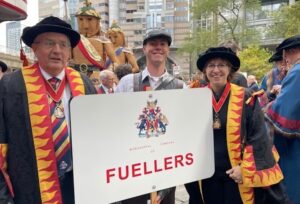 We started with breakfast on the pavement at Piccolo Café off Gresham Street where we were joined by some hardy Fuellers, up bright and early to see the entries. Enjoying the sights of various military parties getting ready for the parade, we went around the corner to find our place. This year we were entry 9, near the front, so a nice slick march around London! It was not hard to spot our usual bus and the rainbow of Livery robes next to the Basket Makers hand woven Gog and Magog. It was lovely to see other master's and have a chance to stand and make new friends as we chatted.
Plenty of smiling, waving, cap doffing and high fiving with the kids ensued as we headed through the streets, waving to greet the new Lord Mayor as we passed the first corner by the Mansion House, plus our Honorary Liveryman, Sheriff Alison Gowman. And it is confirmed that we made it onto the BBC this year, a fleeting flash of Fuellers robes for a few seconds but still an accomplishment.
The second half was somewhat delayed as environmental protesters tried to disrupt proceedings but eventually we were on our way gain. It was not the nicest experience in the world processing through the middle of a police escorted protest, but we were soon through it and back to friendly faces as we approached the home run, notched up as around 6 miles over the day on our Senior Wardens pedometer!
To round off the day, duties complete, we then met at a group of around a dozen Fuellers at the Royal Horseguards Hotel for afternoon tea. It was sublime after all that walking to sit in a comfy chair as we were treated to a complimentary glass of bubbles too. We shared photographs and stories from different viewpoint of the parade both s spectators and participants, Suzan Woods having been parading with the Framework Knitters.
A little sad to find myself having walked my last parade, I very much looked forward to a foot soak! However, Dave, being made of sterner stuff, may still be back for his 17th parade as banner carrier next year!