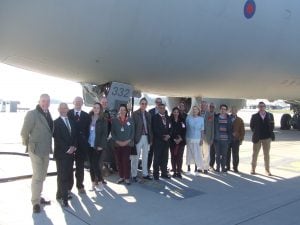 On 10th October, 10 Squadron RAF reprised their role of fine hosts to The Fuellers, and to the Luftwaffe, laying on a 4 ½ hour refuelling sortie to the west of Scotland on board one of their AirTanker Voyager aircraft, supplemented by some cameo performances from individual RAF personnel throughout the day.
17 Fuellers, led by the Master and including the Senior Warden, members and a healthy number of partners and relatives, gathered at the gates of RAF Brize Norton just as a pink-tinged dawn broke on what turned out to be a bright October day. The Fuellers is formally affiliated to 10 Squadron and we were met by our liaison officer, Flt Lt Robin Crosse. His witty banter belied the early start and made sure we were awake as he shepherded us through the base gates and navigated the maze of roads and roundabouts and we played follow-my-leader to the departure lounge.
The departure area features check-in desks, coffee machines, rows of seats, scanners etc. and could be that of any regional airport were it not for the flight status boards listing Kabul, Ascension Island, Akrotiri, Oman and Mt. Pleasant, and a bright red coloured amnesty bin  for "ammunition, pyrotechnics and explosives only". No Fueller made use of that facility!
Take-off was listed as 10:10 and while Flt Lt Crosse was not to be in the air with us that day, he is a pilot on 10 Squadron and filled the time prior to departure with significant humour and a highly informative overview of the aircraft and how it is flown before responding to questions. We discovered that our aircraft would be one of nine militarily registered, and five civilian registered, Airbus A330 MRTT (multi-role tanker transport) aircraft provided by the AirTanker consortium under a PFI contract and known as the Voyager in RAF service. These are split between 10 Squadron and its sister squadron 101, the RAF's oldest. The Voyager is a very versatile piece of kit, able to carry 291 passengers over 8,000km and/or 109 tonnes of fuel, which on the Mk 2 can be shared with fast jets via two wing mounted drum and hose pods attached to the wings and also, on the Mk 3, to slower transports via a belly mounted system. Voyagers are also used by the Royal Family, the Prime Minister and senior government officials on long trips. Flt Lt Crosse also made some interesting observations regarding the difference between fast jet pilots and the rest, explained why Army personnel are known as "pongos" and gave his motivations for joining the RAF.
The ground operations team coached us to our Voyager such that we could see the diversity and number of aircraft stationed at Brize Norton, from the Dornier and Shorts Skyvans of the parachutists to some Hercules which looked small against the newly introduced A400M Atlas and positively tiny against the C17 Globemasters and Voyagers.
Inside our Voyager it was just like any civilian airline's wide bodied aircraft; standard rows of economy style seats and, after we were seated, Cpl Tom Burrell, acting as Cabin Supervisor for the day, gave us the standard safety briefing. Once airborne Mission System Operator Sgt Andy "Embers" Emberton gave us a more detailed briefing of the day's sortie and the civilian similarities ended. In common with Robin and Tom, Embers was extremely welcoming, brimming with enthusiasm for the aircraft and the role they play and happy to answer questions. In addition Embers added an energy level which would normally be a result of too much coffee too early in the morning. Embers had been with 10 Squadron's predecessor squadron 216 Squadron which used TriStars for tanking and we established that he had hosted Fuellers several years ago when we were affiliated to 216 Squadron. In his experience, the Voyager has proven to be a step up in performance and reliability over its predecessors. He explained that we had taken off with 72 tons of fuel with the plan being to use 30 tons to refuel a flight of four Luftwaffe Tornado bombers in Area 14, off the west coast of Scotland, close to where they were conducting exercises. Embers would be logging events so that the flight, which had been requested by our NATO ally, and the fuel supplied could be charged back to the German MOD.
Underscoring the versatility point, this was also a proving flight for 10 Squadron's Commanding Officer, Wing Commander Alistair Scott, with Squadron Leader Nathan Giles as the co-pilot and Flt Lt Steven Margetts as the examiner. Thus we had an almost complete set of RAF ranks on board.
Our route out provided for good views of Liverpool, Douglas and Galloway until we reached a location between the islands of Barra, Tiree and Skye. For the next 3 ½ hours we flew a race track type pattern over the sea at 20,000 feet and we witnessed the servicing of all four aircraft in a sequence of seven refuellings. Refuelling entailed a pair of aircraft coming up to the port side of the Voyager. Once seen by the flight deck crew, the first manoeuvred close behind the port wing before engaging a receiving probe into a basket on the end of the hose which, by then, was trailing several meters from the wing pod. It was akin to threading a needle while driving and though most attempts went smoothly, others provided a good learning experience both for the receivers and the providers. In fact the whole process was captured on video for post sortie debriefings. Once refuelled the Tornado reformed on the starboard side while the second aircraft went through the same process. We were able to watch all this both up on the flight deck video screens and at a distance of 10-15 meters at the back of the plane, from where the skills demanded of the Tornado pilots were fully evident. We were able to admire the "Panther" and yellow and black leopard skin markings of an aircraft of the Tactical Air Force Wing 51 and witness the more relaxed Tornado crews responding to our waves and some even took photographs of us as we took photos of them!
All too soon we were heading back to base and less than 45 minutes after leaving Area 14 we were back on the ground. There the Master gave our thanks to Wing Commander Scott and all his crew who will be remembered for their enthusiasm, pride and genuine hospitality; all in all a great advertisement for the RAF. The Master also confirmed that the donations made by the attending Fuellers would be passed onto BLESMA, 10 Squadron's preferred charity dedicated to assisting serving and ex-Service men and women who have suffered life-changing limb loss or the use of a limb, an eye or loss of sight in the service of our country. Finally, before being escorted off the premises by Flt Lt Crosse, the Master thanked Stephen Lloyd for liaising with the RAF and organising such a smooth running and successful event.
By Paul Trimmer