AFSEA DINING IN NIGHT HELD AT TSW MOD STAFFORD 31ST MARCH 2022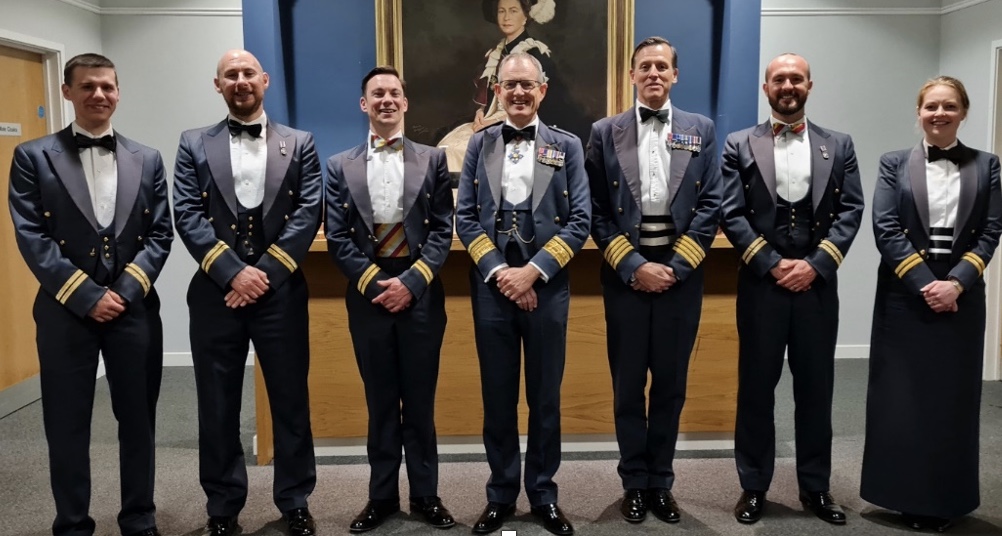 L-R Flt Lt Dom Preece, Flt Lt Craig De Jonghe, Flt Lt Greg Curtis, AVM Rich Hill, Gp Capt Jamie Miller, Flt Lt Dan Smith, Flt Lt Katie Littler
The 2021 Fuellers' Prize for our Military Affiliate Defence Strategic Fuels Authority was awarded to Flt Lt Greg Curtis for his work establishing AFSEA - the Air Fuel and Sustainable Energy Association, unifying that community to grow collective excellence.
As the Master and Consort were attending the Lord Mayor's Dinner to the Masters, Prime Wardens & Upper Bailiff at Mansion House, it fell on yours truly to represent both the Company and the Charitable Trust at the inaugural Dining In night of AFSEA, which was held in the Officers' Mess at TSW, MoD Stafford.

AFSEA have been operating within MoD and the RAF for the last eighteen months, aiming to create a unified collective of contacts from MoD and fuel related civilian organisations, an Affiliates Network which interacts on many fuel-related levels. AFSEA's objective is to create a fuel related collective of excellence to share knowledge, personnel, and other related matters. They already have close ties with Rolls Royce and the Energy Institute and are in touch with Shell and BP.
If traditionally sourced aviation fuel is part of AFSEA's present, they also look at the future; how to replace those fuels throughout the the RAF and MoD; exploring possibilities from hydrogen to nuclear and everything in between.
The AFSEA Leadership Team invited the Fuellers to attend by way of thanks for our strong support and in recognition of the bond between us as a result of Greg's prize. It was an excellent evening; opportunities to renew friendships and make new ones, all the time engaging in fascinating conversations on all matter's aviation fuels, their supply, their future and how AFSEA's network can work together for mutual gain, never forgetting that the future should be sustainable.