Newbury, Berkshire - 20th - 22nd May 2022
Friday: Buffet Supper at The Vineyard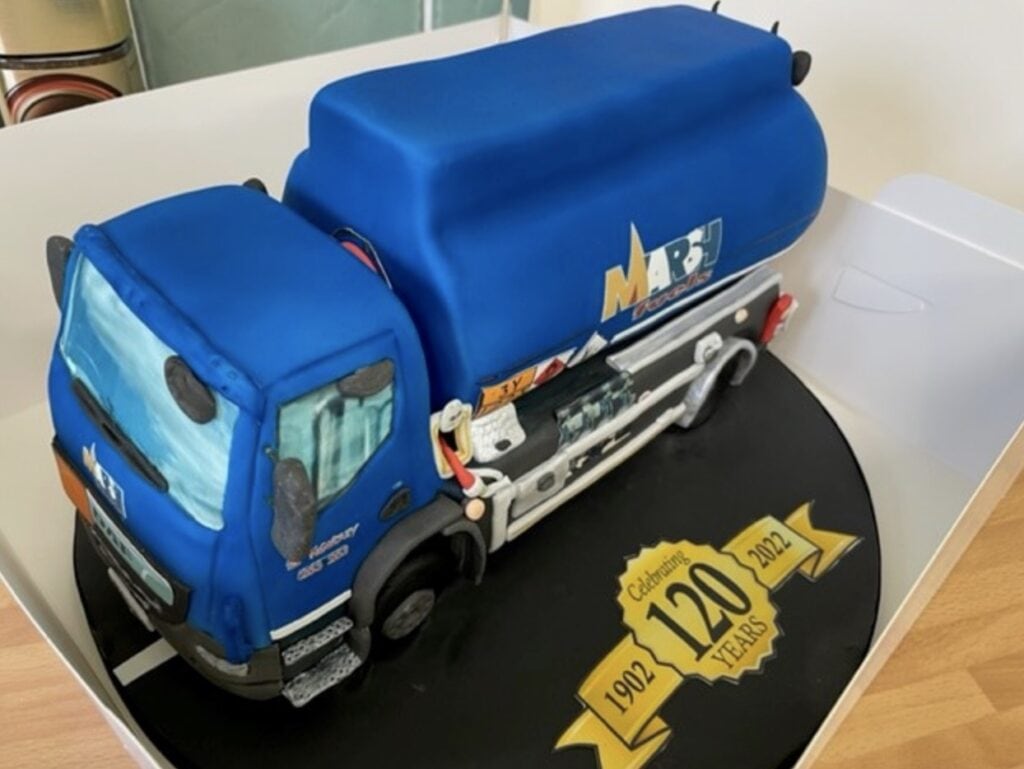 It's a Friday afternoon in May, the sun is doing its best to make an appearance and arriving in a hotel car park, one finds people one knows, carrying a variety of suitcases and bags. A coincidence? No, it's the much-welcomed return of the Fuellers' Master's Weekend, held at The Vineyard Hotel, near to Newbury, the home of not only the Master and her family, but her family business that this year celebrates its 120th birthday.
Once settled into our very well-appointed rooms, some were seen taking the air, going for a stroll but before too long it was time to assemble in the "Fuellers' Bar" (other bars are available), and there were many excited greetings, for some this being the first Fuellers' outing since Covid came to visit.
A buffet supper was served in the adjacent room, The first of several enjoyable meals over the weekend, was topped off by an excellent performance by our Master and her Consort who treated us to a witty rendition of Monty Python's Fish Licence sketch, with some special adaptions, namely "that the Lord Mayor of London has a pet prawn called Simon, Alison Gowman has a clam called Richi after the current chancellor, Shravan Joshi MBE has two Pikes both named Chris and Chloe Andrews Jones has a haddock! So if you are implying that the editor of the Worshipful Company of Fuellers' Standing Orders is a loony I shall have to ask you to step outside!"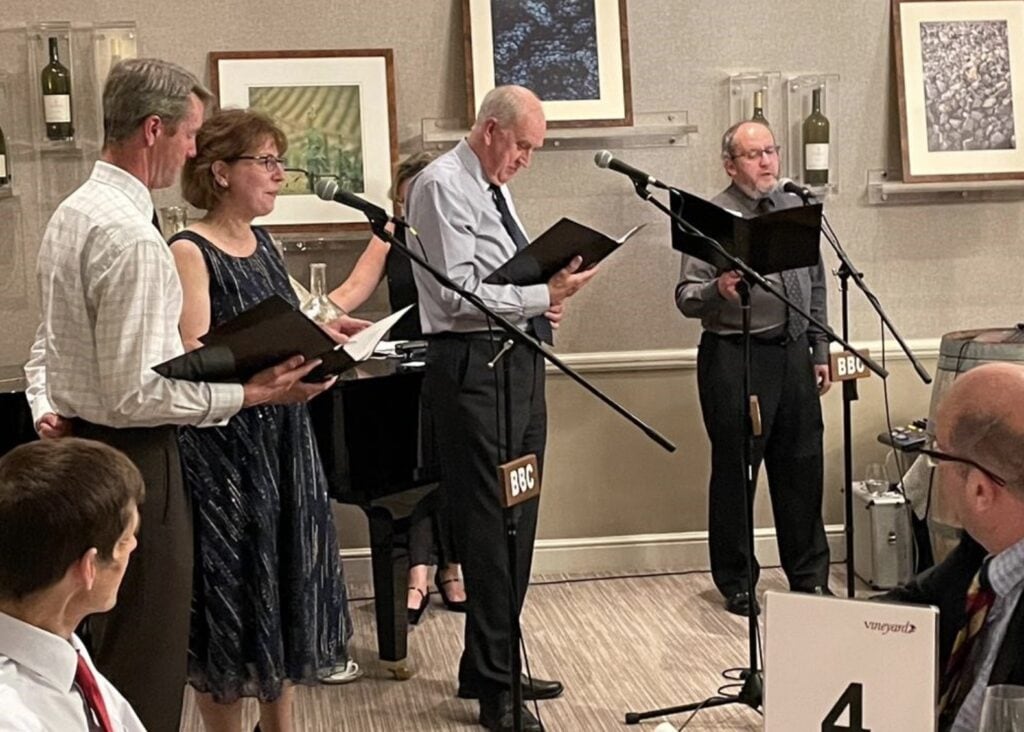 Supper concluded, some departed for the bar whilst others headed for their rooms. Altogether a super evening that, dare I say it, felt really rather "normal"; the Fellowship of Fuellers.
PM Chloë Andrews-Jones
Saturday: Trip to the Watermill Theatre
Whilst we were not able to participate in the whole of the Master's weekend, we certainly did attend what was probably the jewel in the crown. It was a pleasure to meet fellow Fueller's for a friendly and casual lunch in the delightful settings of the Watermill Theatre restaurant near Newbury on a beautiful summer's day. A post luncheon stroll around the lovely garden before entering the theatre for the penultimate performance of the new musical version of "Our Man in Havana".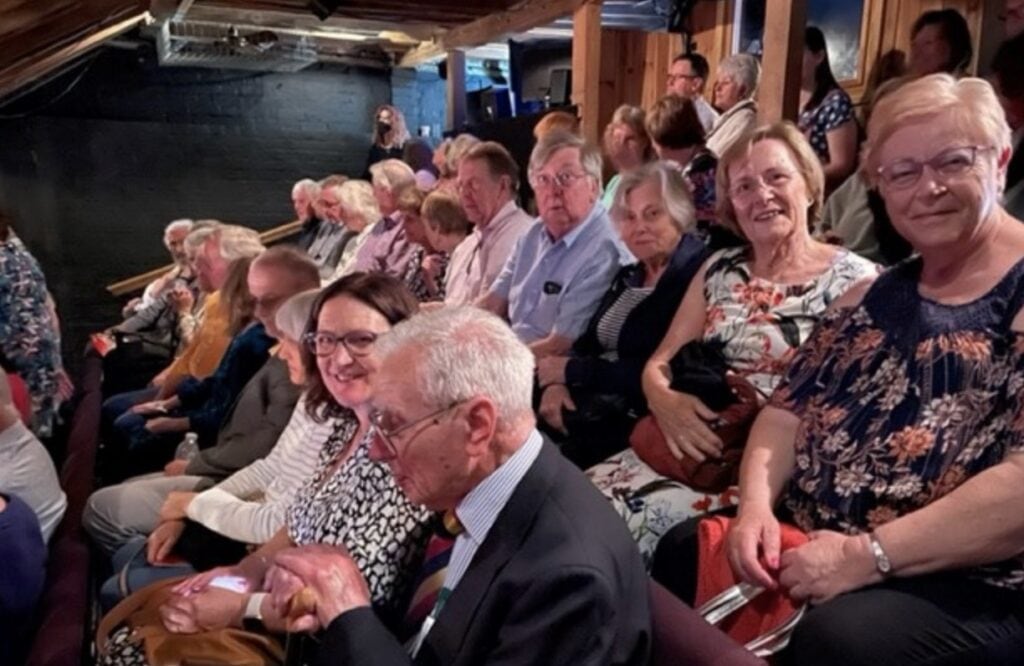 The theatre itself is charmingly quaint, a very small stage in this converted mill that can seat 170; and it was full! With a cast of six, one wondered how they could achieve everything, but this highly talented and multi-tasking sextet did just that, and a bit more. The musical, based on Graham Green's novel and set in Cuba in 1958, was excellent. The cast certainly could sing, but also act, dance, provide all of the music (as each played at least one instrument, some many more) and move the furniture as efficient stagehands! A half-time break for the requisite ice-cream and breath of fresh air by the stream before the final act. A great finale ending a truly entertaining performance.
As we left the theatre the whole audience appeared to be praising the performance and it was fun to meet some of the cast in the car park (no hanging around the stage door for us!). Whilst others headed back to the hotel for dinner and more entertainment, we departed for home with some very happy memories. Don't just take my word for how good it was, https://www.theguardian.com/stage/2022/apr/12/our-man-in-havana-review-graham-greene-classic-becomes-a-clever-musical does much better justice than I could do and there are some good outtakes on YouTube if you missed the performance. I suspect the final performance in the evening will not be the last they perform. Thanks to the Master for arranging such an inspired afternoon's entertainment.
PM Doug Barrow
Saturday: Trip to the Ramsbury Brewery
The 3-pint challenge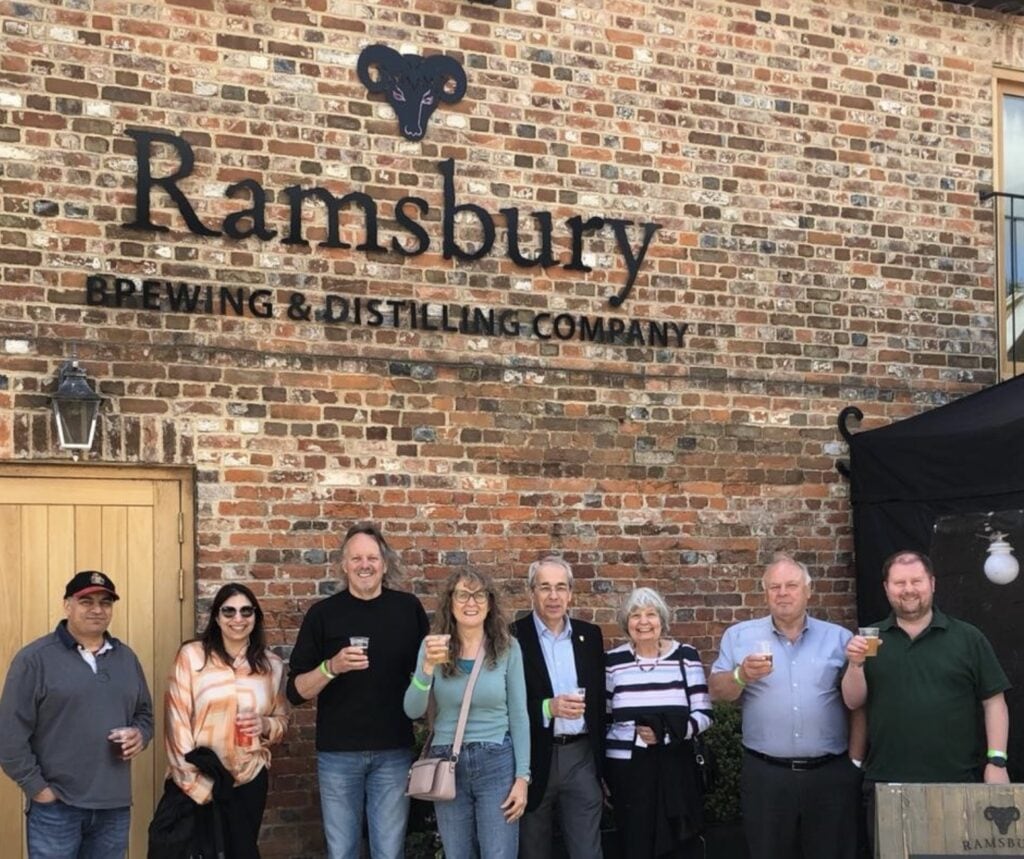 Or how every cloud has a silver lining.
A motley crew of Fuellers who had signed up for a Guided Tour of a Brewery suddenly found themselves, after a substantial lunch and the failure of the minibus company to show up, installed into various taxis and wending our way down country lanes, to………a BEER FESTIVAL!
The weather was glorious, the atmosphere was partylike and the tokens we all carried allowed us 6 different beers. The only downside was that we had only 1 hour to complete the 3-pint challenge. But as always, Fuellers were up for the challenge, even if secretly plotting dubious ways to demonstrate they had achieved it!
Whether it was Platinum Ale, Riggwelter, Talus in Wonderland or Siren Yu Lu (brewed with Earl Grey Tea!) nothing was beyond our brave band of beer drinkers. Both Past Master Shravan and Immediate Past Consort (is that a thing?) Alun claimed victory. And who am I to question the validity of their efforts?
IPM Averil McDonald
Saturday: Dinner at The Vineyard
Over forty Fuellers, partners and friends gathered on Saturday evening 21st May at the Vineyard hotel just outside Newbury for dinner hosted by the Master and her consort during her Master's weekend.
After a busy day at the theatre, brewery visit or just quietly relaxing we gathered for pre-dinner drinks of a local sparkling wine and a group photo in front of a magnificent painting of a celebrated wine tasting. The hotel is owned by Sir Peter Michael, the vintner and wine connoisseur who runs a magnificent hotel and keeps an extraordinary cellar of wines from around the world.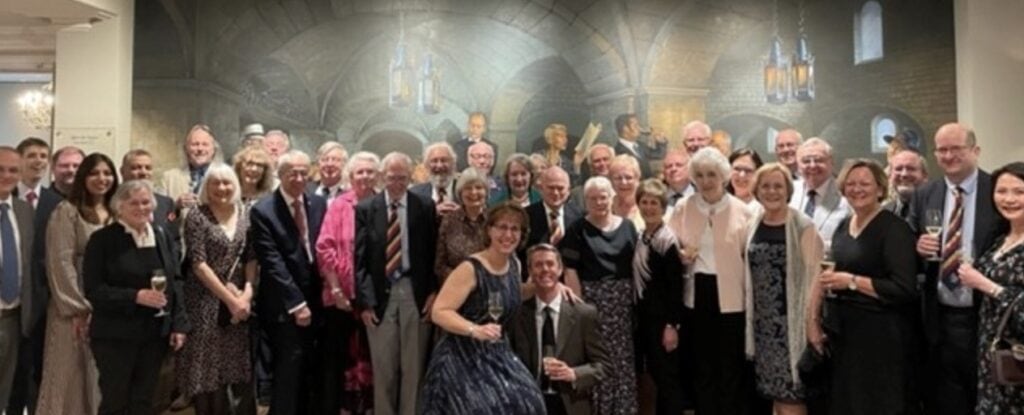 A convivial dinner of locally cured salmon and delicious chicken was to be followed by an eagerly anticipated theatrical production given by the Master, her consort and other local celebratory stars. Some of us had been treated to the Master's hidden talent at a previous Master's dinner hosted by Past Master Shravan Joshi with a startling impromptu performance and character impersonation. This evening's was a rendering of a classic repeat of a "Man from the Ministry" BBC radio show which was rewarded by great applause. If the oil business she runs slows down a little in the future perhaps as a Past Master she will develop her second career!
Our thanks go to Carrie and her family who hosted a wonderful weekend and let us celebrate Marsh Fuels 120th anniversary in style."
CA Edward Libby
Sunday: Visit to Marsh Fuels
Driving through the country lanes of Berkshire with tall trees, green fields and birds singing, it is difficult to imagine we are heading to a fuel depot, but this is the location set for Marsh Fuels. This year Marsh Fuels are celebrating 120 years! It is easy to see why its founder Mr Henry Marsh decided to settle here when he moved his business from London in 1902. It is a glorious location with plenty of farms and country dwellings which remain regular customers for the company's fuel products.
Some thirty Fuellers gathered in the yard in mid-morning sunshine to learn more about this fourth-generation business now run by Master Fueller Carrie Marsh. Carrie introduced the visit with a brief history of the company explaining that her Great Grandfather Henry Marsh had the foresight to purchase a large tract of Berkshire countryside to develop his business. The yard consists of six fuel storage tanks for kerosene (heating oil), and the company also has two delivery tankers. The yard previously had an area for stocking coal in the early days, but this trade has reduced, and the area has been developed with several industrial buildings let to other businesses.
Carrie's husband Dave provided a detailed demonstration of the procedure to fill the tankers with kerosene and occasionally Gas Oil (or red diesel) which is delivered to customers in a radius of about 20 miles of the site near Newbury. The tankers each have several compartments for use of different fuels if required. A mandatory checking system is required prior to filling each tanker to ensure safety. Interestingly, they must be particularly careful with kerosene as wasps are attracted to it for some reason!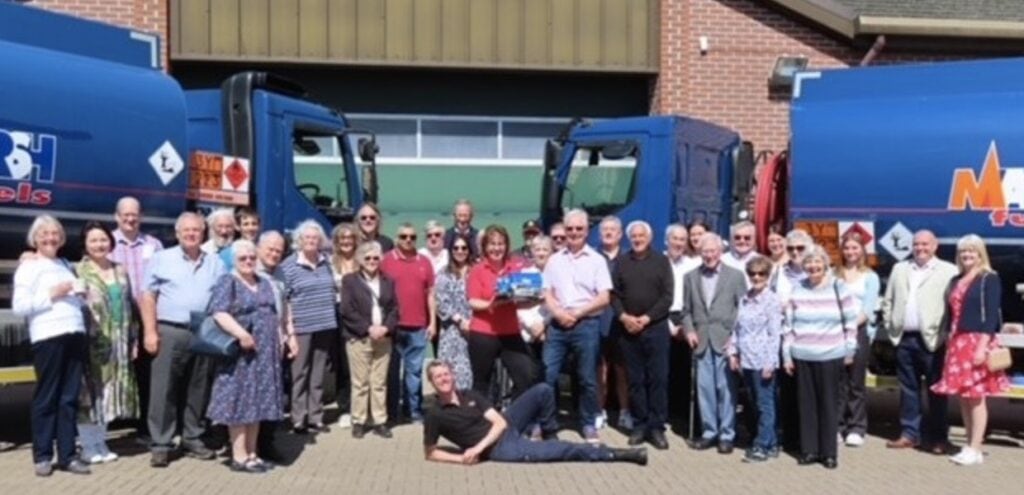 Dave explained customers are now mainly residential properties rather than farms. After the demonstration, we enjoyed tea and a 120-years-celebratory cake designed as a Marsh Fuellers tanker and perused albums of the family business's many milestones over its many years. Carrie and Dave have made use of their theatrical talents and produced an entertaining advert on YouTube video which can be viewed here YouTube
Liveryman, Simon Parsons
Sunday Lunch: with Jan & Bert
And so then it was off to Cherry Vale, home of Bert and Jan Marsh for a BBQ lunch. Having spent time understanding the difference between kerosene and red diesel it was now going to be a choice of red, white or rosé wine. Also alcohol free beer for those driving! Does the Chancellor still levy duty on alcohol free beer?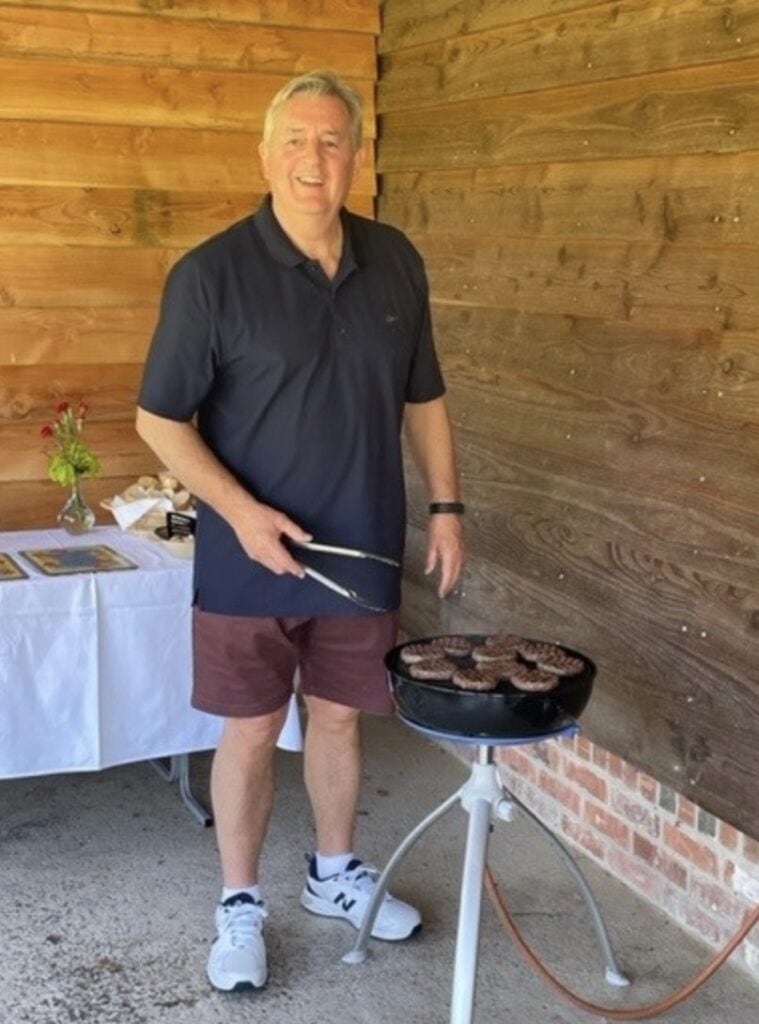 Anyway, we arrived to find Jan and friends Mike and Mandy plus our own Chloe hard at work on the preparations with the BBQ itself in full embers. The sun was beating down so there was a purposeful but well behaved move to the tables under some shade and we learnt that the lawn we were on used to be the route followed by the sheep from the neighbouring farm to the paddock next door - that was before Bert and Jan bought the paddock!
The food was delicious and the conversations flowed as it was consumed. As many will know I always view the Main course as a route to the puddings and lo and behold we were told that it was perfectly permissible to have a piece of both lemon tart and a chocolate mousse extravaganza. No need for a second invitation as far as I was concerned and yummy they both were.
Carrie and Dave then drew everything to a close with a round of thanks to all those who had helped and of course the Fuellers had put together their own thank you to 'Family Marsh' for such a spankingly good weekend. In no time at all there were reluctant goodbyes as we headed in just about every direction as people made their way home or in one case to the airport for a trip to Madeira. Let's hope John and Jenny Ingham took the right suitcases out of the car when they got to Heathrow. If not, Funchal in a Fuellers shirt and tie, budgie smugglers and flip flops will have been a sight!
It had been a real treat to see so many Fuellers having a great time and also good that there were some first timers, a trait I am sure future Masters will wish to see maintained going forward. Talking of which Master Elect Peter Harrison marked our diaries for 19-21 May in Stratford upon Avon for 2023 - no excuses for not knowing the date well enough in advance!
PM Paul Cuttill